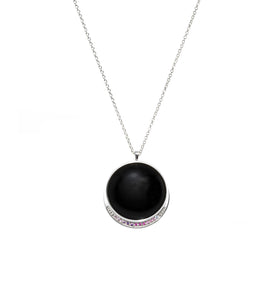 Sterling Silver Black Obsidian Pendant with Amethysts, Pink Tourmalines and White Sapphires.
Obsidian is best known for keeping you in the clear when it comes to negative emotions and negative energy, it is a companion stone that truly helps you to feel safe.
Obsidian Stone is its ability to strengthen your root chakra. This is one of the most important chakras we have as it is known for keeping us grounded no matter what is going on in the world around us. 
Black Obsidian: 25 mm 
Amethysts, Pink Tourmalines and White Sapphires : 1.25 mm 
Chain: 2.6 mm Sterling Silver Oval Chain